2019 Toyota Tundra vs 2019 Honda Ridgeline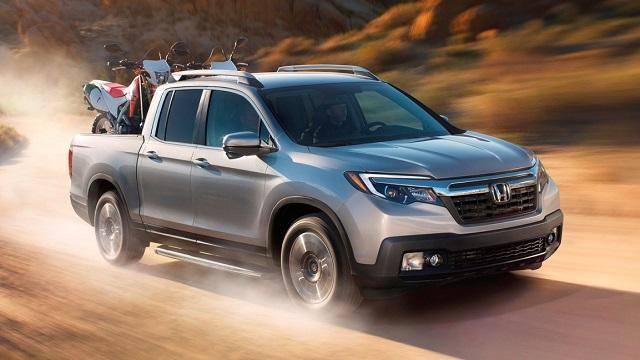 Pickup truck buyers have plenty of choice these days, and especially now mid-size trucks are having something of a renaissance. What can be a little surprising is how expensive some midsize pickups can look at the side of their full-size counterparts. For example, for just a couple of thousand dollars more than the midsize 2019 Honda Ridgeline costs you can have a full-size 2019 Toyota Tundra. So, is it worth the extra for the full-size truck or is the extra size coming at the cost of features and equipment? Let's take a look.
Capability
Although capability isn't the be-all and end-all of midsize trucks in the way it often is with their full-size counterparts, it's still a major consideration. These are pickups after all. The maximum tow rating of the 2019 Honda Ridgeline is 5,000 pounds and the maximum payload is 1,569 pounds. Some large SUVs can tow more than that, so those numbers are not particularly impressive for a pickup truck. By way of contrast, the most you can tow with a 2019 Toyota Tundra is 10,200 pounds and the most it can haul is 1,660 pounds. There may not be too much in the payload ratings but the new Tundra leaves the Ridgeline trailing when it comes to that all-important maximum tow rating.
Engines
Pickups are increasingly being used as family vehicles in place of SUVs and large sedans these days, so how they drive and perform is a big deal. Under the hood of all Honda Ridgeline models is a 3.5-liter V-6 producing a modest 280 horsepower and 262
lb.-ft. of torque. It performs pretty well with its smooth-shifting six-speed automatic and can get the relatively compact Honda to 60 mph in around seven seconds. Most Tundra models come with a 5.7-liter V-8 putting 381 horsepower at your disposal, while SR SR5 trims get a more modest 4.6-liter unit developing 310 horsepower. The new Toyota is just as lively and enjoyable to drive as the Ridgeline, but the extra power of the Tundra delivers greater capability and the V-8s sound way better than the Honda's V-6.
Performance
We've already seen both trucks are equally enjoyable to drive and ride in, but there are some notable differences to consider too. The biggest difference comes with the all-wheel drive systems and how they perform. The Tundra is available with Toyota's 4WDemand part-time 4WD system, which is a seriously good drivetrain that handles the off-road environment with ease. However, it has to be said it's not as suitable to dry pavement as some all-wheel drive systems, which are also not as good as the Toyota off-road. The Honda Ridgeline has one of those systems as an alternative to its standard front-wheel drive. The Honda system is great on roads wet with rain or covered in snow and ice, but serious off-roading should be attempted in the Ridgeline with some care.
Styling
The Toyota Tundra looks a lot more like a domestic pickup than many Japanese offerings, which is sure to please many potential buyers. Like most midsize pickups, the Honda Ridgeline is a lot more like the compact pickups successfully sold by manufacturers outside North America. Some midsize pickups look really sporty and attractive, but the Honda looks like a slightly dated Honda SUV with the back cut off. The Tundra, however, looks just the way it should and is a much more modern design than the Honda.
Verdict
If the 2019 Toyota Tundra was just bigger and more capable than the 2019 Honda Ridgeline it would be a simple choice of what you need, but can you justify the extra for the Toyota if you don't need that extra capability? The Toyota is a better truck in every way and well worth digging a little deeper for.
To check out a 2019 Toyota Tundra for sale in Ontario for yourself or for any new Toyota, don't hesitate to get in touch with us here at Hometown Toyota Scion. Your local Toyota dealer in Ontario and surrounding areas.
Source: https://www.toyota.com/tundra/